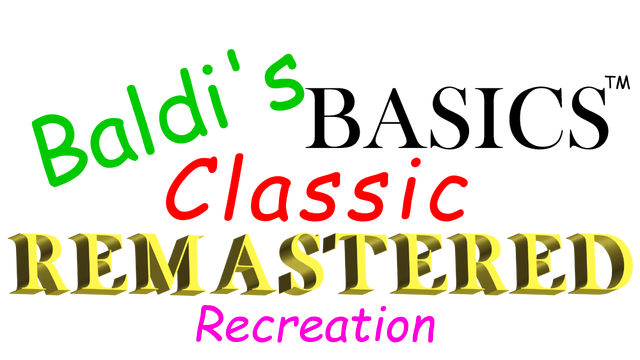 Baldi's Basics Classic Remastered Recreation
A downloadable game for Windows
ATTENTION
This recreation will no longer be receiving ANY updates. I know I've announced that there will be a final update to this, but seeing as we're about to get the real thing in the coming months ahead, I see no reason to continue working on this any further. Thank you for following through with this project, it was fun while it lasted. As for V0.5, I plan to release that eventually (even after Baldi's Basics Classic Remastered officially releases), as long as I can get it to a playable state, but I will not be fixing any of the bugs in it currently. It's currently not playable as of now.
Please look out for an upcoming Baldi's Basics fangame of mine in the future, as it should be of great quality once I release the first ever demo. And any of my games following that fangame will also have demos. I have a few projects to go back to and finish!
NOTE
nothing here is accurate, maybe some recreations of UI are accurate, but as far as things like the stamina bar goes, these are changes I decided to make myself. The real game will be better anyway, so I don't plan to really update this much anymore, It was fun to learn about creating things like random events from scratch without using references. Hopefully I can make better mods going forward, this is only the start of making better mods!

Baldi's Basics Classic Remastered Recreation is the ultimate version of the original Baldi's Basics! It's simply a recreation of the remaster that has yet to be released, so it features little to none of the improvements found in Baldi's Basics Plus.
This recreation is effectively my take on the original game, and I already know some things will be substantially different in the real game :P
If you don't actually see this as a Recreation, and you see it as more of a "3 modes in 1 game" type of deal, that's perfect too.
For classified reasons, there will NEVER be any MacOS, Linux, or Android/iOS Builds of this game. Sorry for the disappointing news.
stop asking. please and thanks :P
And P.S: If you're going to make a video on this, do NOT play it off that this is the real thing, because it isn't. Always include "Recreation" in the title. You can't gamejack and get away with it.
CREDITS
Project Splinta (AKA: Splintza/Saintza) - Making most of the main assets, Voice Acting New Baldi, etc.
ConnorPizzaOnWheels - Helping provide most of the textures, such as the menu mode select buttons (I can't exactly tell everything he did, but he did help with a good handful of things!)
Basically Games - Title Screen Dialogue, other sprites, but most were made by connor or splintza (me).